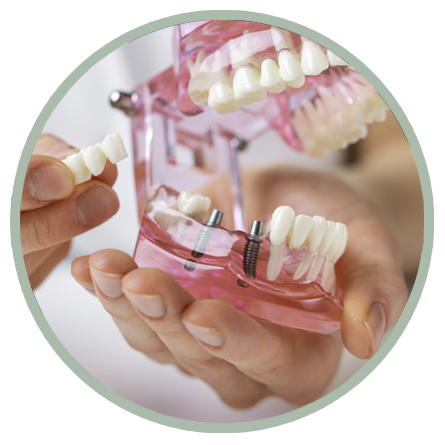 At Orchard Smiles, we believe in providing our patients with the gold standard solution for replacing lost teeth – dental implants. With dental implants, you can enjoy the strength, function, and natural appearance of a real tooth.
Our skilled doctors utilize cutting-edge digital technology to gather the necessary data for precise implant planning, resulting in outcomes that are incredibly lifelike, often making you forget that they are not natural teeth.
The implant process begins with thorough planning to ensure optimal esthetics and functionality. Once the planning phase is complete, the implant is carefully placed into the jawbone. Most patients experience minimal discomfort following the surgical placement of the implant. Our attentive doctors will guide you through the initial healing period, during which the bone fuses with the implant over several months. This process, called osseointegration, ensures a stable foundation for the replacement tooth.
Once the implant has successfully integrated with the bone, we will create a custom-made, lifelike porcelain tooth that blends seamlessly with your natural smile. Our commitment to precision and aesthetics ensures that your dental implant restoration is indistinguishable from your surrounding natural teeth.
At Orchard Smiles, we combine advanced technology, meticulous planning, and expert execution to provide you with the highest quality dental implant treatment. Our goal is to help you regain a confident smile and the ability to chew and speak comfortably. Schedule a consultation with our experienced team to explore the transformative benefits of dental implants and discover a long-lasting solution for tooth replacement.
We Love Hearing from
Happy Patients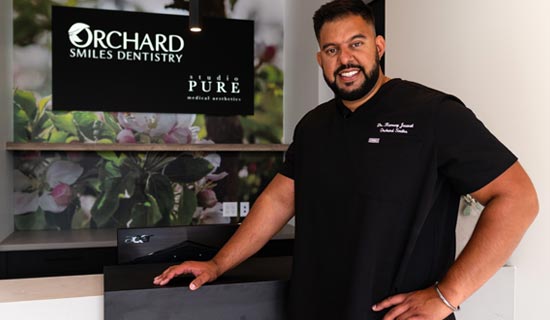 Experience the difference at Orchard Smiles. Contact us today to schedule an appointment and let us provide your family with the highest standard of dental care in a compassionate and comfortable setting.
Stay up to date with all that's going on at Orchard Smiles